Microsoft – Nokia Merger deal to close on Friday
Microsoft says it will close its $7.2 billion acquisition of Nokia's handset business this Friday.
In a statement released Monday, Microsoft general counsel Brad Smith says -
"The deal, delayed by a month as both companies awaited regulatory clearances in Asia, will be complete on April 25. This acquisition will help Microsoft accelerate innovation and market adoption for Windows Phones. In addition, we look forward to introducing the next billion customers to Microsoft services via Nokia mobile phones."
Microsoft will acquire Nokia's smartphone and cellular handset business for $US7.2 billion ($7.9 billion). The company already makes the Lumia smartphone line, which runs the Windows mobile operating system.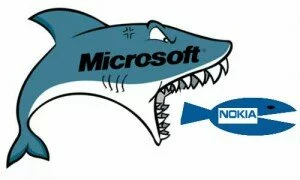 Windows has emerged as the third most popular smartphone operating system, leapfrogging BlackBerry but still far behind Google's Android and Apple's iOS.
{total}
', enableHover: false, enableTracking: true, click: function(api, options){ api.simulateClick(); api.openPopup('facebook'); } }); jQuery('#googleplus').sharrre({ share: { googlePlus: true }, template: '
{total}
', enableHover: false, enableTracking: true, urlCurl: 'https://telenews.in/wp-content/themes/hueman/js/sharrre.php', click: function(api, options){ api.simulateClick(); api.openPopup('googlePlus'); } }); jQuery('#pinterest').sharrre({ share: { pinterest: true }, template: '
{total}
', enableHover: false, enableTracking: true, buttons: { pinterest: { description: 'Microsoft – Nokia Merger deal to close on Friday',media: 'https://telenews.in/wp-content/uploads/2014/04/Microsoft-Nokia-deal-008.jpg' } }, click: function(api, options){ api.simulateClick(); api.openPopup('pinterest'); } }); });