10 Top features of the iOS 8 highlighted at WWDC
At the Apple WorldWide Developer conference, Apple has presented the next version of its device software, iOS 8. Last year 130 million people joined Apple's iOS ecosystem for the first time.
iOS 8 lets you do more with the simple double-tap. It also shows thumbnail images of the peoplewith whom you communicate with frequently. From here, you can tap on a thumbnail, to call, message, or email that person. iOS uses a refined Notification center. You can now scroll down the notification from anywhere, without having to close your current app.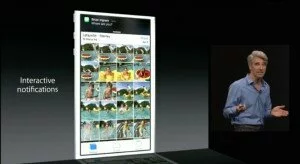 Siri and Google Now get compared pretty frequently, but this time, the comparison might be more reasonable. Apple has announced several new features for Siri, including an always-on, voice activated mode, that lets you use it by saying, "Hey Siri". Siri now includes more language support and Shazam song recognition.
Apple's first party cloud storage system will be useful since it will likely get supported by most third party apps, but Dropbox is so widespread these days that most apps mention Dropbox sync as a feature on their app store listings.
Now it easier to flag and delete messages with a swipe. When composing emails, you can swipe down on a draft to minimize it and access other emails in your inbox. Then, tap on the bottom of the screen to re-open your draft. Other neat tricks include the ability to add calendar events right from email, such as OpenTable invites.
Apple has enhanced the Spotlight search for iOS 8. Spotlight will now show you apps from app stores that you don't have.
Quick Type will offer more advanced predictive text options and will support more languages like Spanish, English and Chinese. The Keyboard might not be as alluring for Android users but is definitely a much needed change in iOS.
You can integrate all your health information in a single place and share that with Mayo Clinic, again, practicing all due care to ensure your privacy. You can also integrate third party apps that you use for tracking your sleep patterns, Calroies burnt etc with the health app.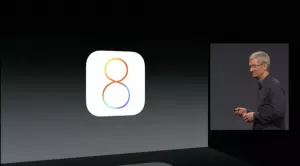 The Internet of Things has been around the corner for a decade now, but with more consumer brands putting out products in the market, we might actually see this develop in front of us now. Homekit will allow your mobile to work with things like locks, lights, cameras, doors, thermostats, plugs and switches, and let you control individual devices or scenes – groups of devices.
One of the obvious changes is that you can speak into your phone and send an audio message in Messages that will selfdestruct in a few minutes. If you get a text, you can lift the phone to your ear (yes, a radical idea) and the movement of the phone will initiate a phone call or an audio message. If you're stuck in one of those group chats that goes on and on, you can mute that message thread or drop out of it.
This recognises that more than one person in the house has a iPhone or iPad. If one person has bought an app or music or movie from iTunes, everyone can install it on their device for free.
{total}
', enableHover: false, enableTracking: true, click: function(api, options){ api.simulateClick(); api.openPopup('facebook'); } }); jQuery('#googleplus').sharrre({ share: { googlePlus: true }, template: '
{total}
', enableHover: false, enableTracking: true, urlCurl: 'https://telenews.in/wp-content/themes/hueman/js/sharrre.php', click: function(api, options){ api.simulateClick(); api.openPopup('googlePlus'); } }); jQuery('#pinterest').sharrre({ share: { pinterest: true }, template: '
{total}
', enableHover: false, enableTracking: true, buttons: { pinterest: { description: '10 Top features of the iOS 8 highlighted at WWDC',media: 'https://telenews.in/wp-content/uploads/2014/06/2014-01-17T053253Z_1_CBREA0G0FEY00_RTROPTP_4_APPLE-CHINAMOBILE.jpg' } }, click: function(api, options){ api.simulateClick(); api.openPopup('pinterest'); } }); });