Nokia named Rajeev Suri as its new chief executive officer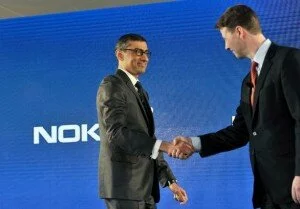 Former chief of the Nokia Solutions and Networks unit becomes the telecom gear maker's CEO as Microsoft closes its deal for Nokia's handset unit. Job went to Rajeev Suri, the man credited with painfully turning around the company's no-longer-struggling NSN networking business.
The Finnish company said Rajeev Suri will take the helm of the 143-year-old company, charging him with accelerating another transformation of a business with a history of reinvention.
Siilasmaa said -
"As Nokia opens this new chapter, the Nokia Board and I are confident that Rajeev is the right person to lead the company forward. He has a proven ability to create strategic clarity, drive innovation and growth, ensure disciplined execution, and deliver results. We believe that his passion for technology will help ensure that Nokia continues to deliver innovations that have a positive impact on people's lives."
The company also announced a 5 billion euro ($6.9 billion) capital improvement program that will include resumption of ordinary dividends, distribution of excess capital to shareholders, share buyback, and debt reduction.
{total}
', enableHover: false, enableTracking: true, click: function(api, options){ api.simulateClick(); api.openPopup('facebook'); } }); jQuery('#googleplus').sharrre({ share: { googlePlus: true }, template: '
{total}
', enableHover: false, enableTracking: true, urlCurl: 'https://telenews.in/wp-content/themes/hueman/js/sharrre.php', click: function(api, options){ api.simulateClick(); api.openPopup('googlePlus'); } }); jQuery('#pinterest').sharrre({ share: { pinterest: true }, template: '
{total}
', enableHover: false, enableTracking: true, buttons: { pinterest: { description: 'Nokia named Rajeev Suri as its new chief executive officer',media: 'https://telenews.in/wp-content/uploads/2014/04/1398742262704.jpg' } }, click: function(api, options){ api.simulateClick(); api.openPopup('pinterest'); } }); });