Nokia unveiled Z Launcher for Android with simple and smart design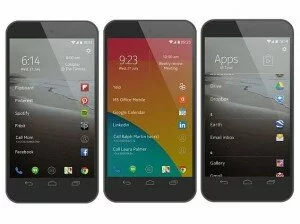 Nokia unveiled a new home screen app for Android called the Z Launcher. The app lets you customize your home screen and predicts which apps you'll want to use.
The Z Launcher have a very simple and useful information on the home screen, and the launcher screen is occupied by six shortcuts, in combination of apps, websites that you often visit and contacts. It also looks like that its learning based on how you use your Android smartphone.
Features of Z launcher are -
Fastest way to access everything on your phone.
Dynamically changes your homescreen to present the right apps, contacts and websites.
Scribble feature ensures you're always only one-second away from everything.
Keeping track of which apps you use and when you use them.
Nokia Z Launcher have a pre-beta release and is available for download for FREE. Its compatible with most latest Android phones running Android OS 4.1 or higher, The launcher is not optimized for tablet usage for now.
The Z Launcher app is an independent project by Nokia, free of Microsoft. The company is no longer a cellphone maker as it sold its devices and services business to Microsoft handset for EUR 5.44 billion.
{total}
', enableHover: false, enableTracking: true, click: function(api, options){ api.simulateClick(); api.openPopup('facebook'); } }); jQuery('#googleplus').sharrre({ share: { googlePlus: true }, template: '
{total}
', enableHover: false, enableTracking: true, urlCurl: 'https://telenews.in/wp-content/themes/hueman/js/sharrre.php', click: function(api, options){ api.simulateClick(); api.openPopup('googlePlus'); } }); jQuery('#pinterest').sharrre({ share: { pinterest: true }, template: '
{total}
', enableHover: false, enableTracking: true, buttons: { pinterest: { description: 'Nokia unveiled Z Launcher for Android with simple and smart design',media: 'https://telenews.in/wp-content/uploads/2014/06/Screen-Shot-2014-06-21-at-10.42.12-AM-1024x501.png' } }, click: function(api, options){ api.simulateClick(); api.openPopup('pinterest'); } }); });