Panasonic P81 teased with customizable back covers to be launched in May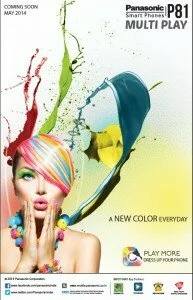 Panasonic will soon launch a smartphone Panasonic P81 which will come with customizable back covers. Panasonic's P series of smartphone seems to have found quite a lot of fans in India
Following the marketing trends of Panasonic P31, the Japanese manufacturer has teased the upcoming smartphone via images sent through emails reading "a NEW COLOR everyday".
 "A new colour everyday..Play more.. dress up your phone,"
Other features of the phone are a mystery at this point but it is pretty much certain the phone will run on Android and come pre-loaded with Evernote, Readwhere, and Hungama apps. We don't even know when exactly the handset will be available for purchase, thought the promo advert states that it will be launched this month.
Panasonic currently sells five smartphones in the country – the Panasonic P11, P31, P51, T11, T21 and T31. The Panasonic P31 was launched in March this year for Rs 11,990. The latest offering Panasonic P81 will release sometimes around this month.
{total}
', enableHover: false, enableTracking: true, click: function(api, options){ api.simulateClick(); api.openPopup('facebook'); } }); jQuery('#googleplus').sharrre({ share: { googlePlus: true }, template: '
{total}
', enableHover: false, enableTracking: true, urlCurl: 'https://telenews.in/wp-content/themes/hueman/js/sharrre.php', click: function(api, options){ api.simulateClick(); api.openPopup('googlePlus'); } }); jQuery('#pinterest').sharrre({ share: { pinterest: true }, template: '
{total}
', enableHover: false, enableTracking: true, buttons: { pinterest: { description: 'Panasonic P81 teased with customizable back covers to be launched in May',media: 'https://telenews.in/wp-content/uploads/2014/05/P81_Teaser.jpg' } }, click: function(api, options){ api.simulateClick(); api.openPopup('pinterest'); } }); });