Samsung Galaxy Mega 7.0 images leaked with 7 inch display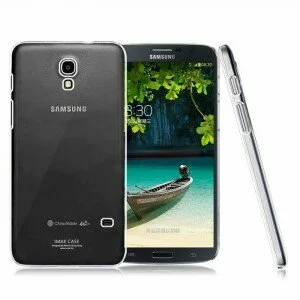 Samsung appears to be introducing a 7-inch Samsung Galaxy Mega 7.0 or Galaxy W that will be considered a smartphone. The device was just recently cleared by the FCC, so it looks like it is definitely heading to the U.S. Market.
The Galaxy Mega 7.0 looks a lot similar to a monster 7-inch tablet rather than a smartphone. Moreover, going by the image, it seems that the phone has been inserted into some protective case, which also has China Mobile logo embedded on it.
The device is expected to be a mid-ranger with dimensions of a tablet. But it is said to boast a very thin chassis, which will help differentiate it from a tablet. As far as specifications are concerned, it won't be anywhere near Samsung's flagship devices.
One may also notice the strong resemblance, especially in terms of the bezels, this device has with Samsung's smartphone models versus their tablet devices.
The company is hosting an event on June 12 where it will unveil its latest tablets, and chances are the Galaxy Mega 7.0 could make an appearance.
{total}
', enableHover: false, enableTracking: true, click: function(api, options){ api.simulateClick(); api.openPopup('facebook'); } }); jQuery('#googleplus').sharrre({ share: { googlePlus: true }, template: '
{total}
', enableHover: false, enableTracking: true, urlCurl: 'https://telenews.in/wp-content/themes/hueman/js/sharrre.php', click: function(api, options){ api.simulateClick(); api.openPopup('googlePlus'); } }); jQuery('#pinterest').sharrre({ share: { pinterest: true }, template: '
{total}
', enableHover: false, enableTracking: true, buttons: { pinterest: { description: 'Samsung Galaxy Mega 7.0 images leaked with 7 inch display',media: 'https://telenews.in/wp-content/uploads/2014/06/Samsung.jpg' } }, click: function(api, options){ api.simulateClick(); api.openPopup('pinterest'); } }); });