Oppo N1 Mini with 13 MP rotating camera is officially announced, available from June 10th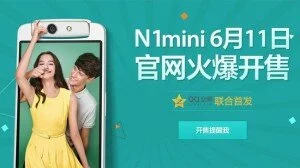 Oppo officially announced Oppo N1 Mini. The Oppo N1 Mini is not actually so "mini". It just happens to be much smaller than its 6-inch iteration. Sporting a 5-inch 720p display, this device will be much more manageable.
Oppo N1 Mini definitely looks like a smaller version of the N1. Navigation buttons, rounded corners that weird-looking rotating camera, it's all there. We might as well put that "Mini" branding under quotation marks because there's nothing mini regarding this phone.
Key Specifications of Oppo N1 Mini are -
OS – Android v4.4 (KitKat)
Display – 5.0 Inch
Resolution – 720pixels
Weight – 150 grams
Processor – Octa Core Chipsets
Rear Camera – 13 MP with Super Zoom Mode
Internal Storage – 4 GB expandable up to 32 GB
RAM – 1 GB
Battery – 2140 mAh
{total}
', enableHover: false, enableTracking: true, click: function(api, options){ api.simulateClick(); api.openPopup('facebook'); } }); jQuery('#googleplus').sharrre({ share: { googlePlus: true }, template: '
{total}
', enableHover: false, enableTracking: true, urlCurl: 'https://telenews.in/wp-content/themes/hueman/js/sharrre.php', click: function(api, options){ api.simulateClick(); api.openPopup('googlePlus'); } }); jQuery('#pinterest').sharrre({ share: { pinterest: true }, template: '
{total}
', enableHover: false, enableTracking: true, buttons: { pinterest: { description: 'Oppo N1 Mini with 13 MP rotating camera is officially announced, available from June 10th',media: 'https://telenews.in/wp-content/uploads/2014/06/nexusae0_2014-05-30-11_38_47-N1mini-6-11-official-website-hot-sale-OPPO_thumb.png' } }, click: function(api, options){ api.simulateClick(); api.openPopup('pinterest'); } }); });