Lenovo Vibe Z receives Android 4.4.2 KitKat OTA Update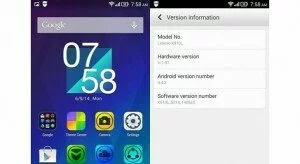 Lenovo officially announced plans to make the Android 4.4.1 KitKat operating system version available for its Vibe Z handsets out there, and it seems that the company is currently deploying the update in Malaysia.
Vibe Z owners can look for the update notification in their taskbar, or through their about screen in the settings menu. Due to the large file size it's recommended that you stick to updating via a WiFi network. Users will enjoy software optimizations and features with this update.
Specifications of Lenovo Vibe Z are -
Display 5.5-inch full HD
Resolution 1920×1080 pixels
OS Android v4.3 Jelly Bean
Processor 2.2GHz Qualcomm Snapdragon 800 series quad-core CPU
RAM 2GB RAM
Storage capacity 16GB
Rear Camera 13 megapixel with dual-LED flash
Front Camera 5 megapixel
Battery 3,000 mAh
Dimensions 150.0mm x 70.96mm x 7.9 mm
Weight 147 grams
Colors Silver and Titanium
{total}
', enableHover: false, enableTracking: true, click: function(api, options){ api.simulateClick(); api.openPopup('facebook'); } }); jQuery('#googleplus').sharrre({ share: { googlePlus: true }, template: '
{total}
', enableHover: false, enableTracking: true, urlCurl: 'https://telenews.in/wp-content/themes/hueman/js/sharrre.php', click: function(api, options){ api.simulateClick(); api.openPopup('googlePlus'); } }); jQuery('#pinterest').sharrre({ share: { pinterest: true }, template: '
{total}
', enableHover: false, enableTracking: true, buttons: { pinterest: { description: 'Lenovo Vibe Z receives Android 4.4.2 KitKat OTA Update',media: 'https://telenews.in/wp-content/uploads/2014/06/lenovovibez_0.png' } }, click: function(api, options){ api.simulateClick(); api.openPopup('pinterest'); } }); });