iPhone 6, iPad Air 2 and iPad mini 3 will support a Touch ID fingerprint scanner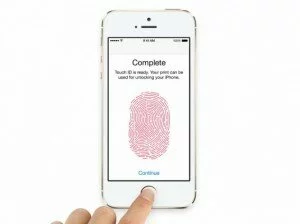 Apple's next generation iPad Air, iPhone and iPad mini has leaked online. The photos shows Touch ID fingerprint sensor on the upcoming iPhone 6, iPad Air 2 and iPad mini 3.
All the upcoming devices iPhone 6, iPad Air 2 and the iPad mini 3 models are coming with an embedded circular home button.
The reports suggests that this new feature will be a part of iOS 8, it may be integrated into all Apple's new products including the new iPads, iPhone 6, and even the iWatch.
Features of the Touch ID Scanner are -
Fingerprint recognition is used for unlocking the device.
Approve purchases from the App Store, iTunes Store, and the iBooks Store.
360-degree readability that allows users to enter fingerprints in portrait, landscape, or any other position.
Supports multiple fingerprints.
Home button is made from sapphire and is scratch resistant.
Statement said -
"Apple's Touch ID module should see shipments soar 233% in 2014. We believe every new iOS device launched this year will be equipped with Touch ID, including 4.7″ and 5.5″ new iPhone 6, iPad Air 2 and iPad mini 2 with Retina display. Considering shipments of new products and iPhone 5S sales last longer than in 2013, we forecast unit sales of the fingerprint sensor module to grow 233% to 120mn for 2014."
iPhone 6 is expected to be launched on September 19th. The device will reportedly will come with a barometer sensor to measure temperature, altitude and air pressure. While the iPad Air launched in October and the iPad mini with Retina Display appeared in October.
{total}
', enableHover: false, enableTracking: true, click: function(api, options){ api.simulateClick(); api.openPopup('facebook'); } }); jQuery('#googleplus').sharrre({ share: { googlePlus: true }, template: '
{total}
', enableHover: false, enableTracking: true, urlCurl: 'https://telenews.in/wp-content/themes/hueman/js/sharrre.php', click: function(api, options){ api.simulateClick(); api.openPopup('googlePlus'); } }); jQuery('#pinterest').sharrre({ share: { pinterest: true }, template: '
{total}
', enableHover: false, enableTracking: true, buttons: { pinterest: { description: 'iPhone 6, iPad Air 2 and iPad mini 3 will support a Touch ID fingerprint scanner',media: 'https://telenews.in/wp-content/uploads/2014/06/iPadAir-Press-02-578-80.jpg' } }, click: function(api, options){ api.simulateClick(); api.openPopup('pinterest'); } }); });