Spice launches First Firefox OS smartphone Fire One Mi FX1 in India for Rs 2,299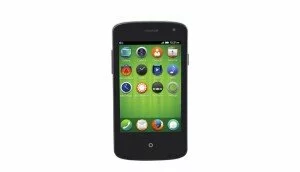 Spice Mobiles has launched a Firefox OS-powered smartphone, Fire One Mi-FX 1. The phone is priced at Rs 2299 and will be sold exclusively through Snapdeal from August 29.
Spice's Fire One supports multiple Indian languages including Hindi, Tamil, and Bengali. Firefox OS's app store Marketplace will be pre-installed on the handset.
Mr. Prashant Bindal, Chief Executive Officer, Spice Mobility, said –
"With the ultra-low cost Spice Fire One, we at Spice, aim to convert the feature phone users into smartphone users, thereby, aiding them with the power of internet. This partnership with Mozilla showcases our commitment to providing the best technological innovations first hand to our customers."
Dr. Li Gong, President of Mozilla Corporation, said –
"Just one year after the first Firefox OS device launched, Firefox OS smartphone is now available in 17 countries across Europe, Asia and Latin America. Our partnership with SPICE will be an exciting Firefox OS launch in India. Having one more strong partner as Spice, we are confident that Firefox OS devices will realize a whole new category of smartphones with affordable price. Furthermore, we can ensure every user enjoys the power of Web".
Specifications of Spice Fire One Mi-FX 1 are –
Display – 3.50-inch
Processor – 1GHz
Front Camera – 0.3-megapixel
Resolution – 320×480 pixels
OS – Firefox OS
Rear Camera – 1.3-megapixel
{total}
', enableHover: false, enableTracking: true, click: function(api, options){ api.simulateClick(); api.openPopup('facebook'); } }); jQuery('#googleplus').sharrre({ share: { googlePlus: true }, template: '
{total}
', enableHover: false, enableTracking: true, urlCurl: 'https://telenews.in/wp-content/themes/hueman/js/sharrre.php', click: function(api, options){ api.simulateClick(); api.openPopup('googlePlus'); } }); jQuery('#pinterest').sharrre({ share: { pinterest: true }, template: '
{total}
', enableHover: false, enableTracking: true, buttons: { pinterest: { description: 'Spice launches First Firefox OS smartphone Fire One Mi FX1 in India for Rs 2,299',media: 'https://telenews.in/wp-content/uploads/2014/08/spice-firefox-phone_660_082914071413.jpg' } }, click: function(api, options){ api.simulateClick(); api.openPopup('pinterest'); } }); });