Apple launch iPhone 6 and iPhone 6 Plus in India on October 17th
Apple today launched the much-awaited new iPhone 6 in two variants, with the 4.7-inch variant called iPhone 6 and the bigger 5.5-inch variant called iPhone 6 Plus. iPhones are scheduled to go on sale in the US on September 19 and will be available in India on October 17.
Highly anticipated iPhone 6 models, which is slated to come in 4.7-inch and 5.5-inch display. The iWatch that is speculated to come with a flexible screen and edgy health-related features and the iPad 2 which will include storage updates, Touch ID, and a possible gold version.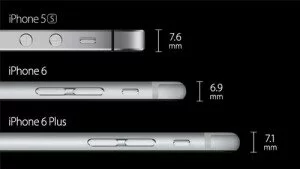 iPhone 6 sports 4.7-inch (1334×750 pixels) display, while the iPhone 6 Plus flaunts a full HD (1920×1080 pixels) display. They are both powered by a new 64-bit A8 processor, which in turn is paired with an M8 co processor that is responsible for fitness and tracking services.
{total}
', enableHover: false, enableTracking: true, click: function(api, options){ api.simulateClick(); api.openPopup('facebook'); } }); jQuery('#googleplus').sharrre({ share: { googlePlus: true }, template: '
{total}
', enableHover: false, enableTracking: true, urlCurl: 'https://telenews.in/wp-content/themes/hueman/js/sharrre.php', click: function(api, options){ api.simulateClick(); api.openPopup('googlePlus'); } }); jQuery('#pinterest').sharrre({ share: { pinterest: true }, template: '
{total}
', enableHover: false, enableTracking: true, buttons: { pinterest: { description: 'Apple launch iPhone 6 and iPhone 6 Plus in India on October 17th',media: 'https://telenews.in/wp-content/uploads/2014/09/iphone_6_6_plus_new_1.jpg' } }, click: function(api, options){ api.simulateClick(); api.openPopup('pinterest'); } }); });