Google unveiled its DRIVERLESS CAR prototype in California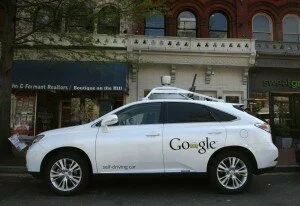 Google is building a fleet of electric-powered self-driving cars that it plans to begin testing by the end of the year. It is coming with conventional controls including the steering wheel, and says it will build 100 of the vehicles for testing.
Chris Urmson, director of Google's self-driving car project, said -
"The aim was to run extended tests in California where Google is based. It is an important step toward improving road safety and transforming mobility for millions of people".
The toy-like concept vehicle has two seats, a screen displaying the route and a top speed of 25mph (40km/h). An array of sensors allows the vehicle's computer to determine its location and surroundings and it can see several hundred metres. Google said its testing had suggested it was safer to remove conventional controls altogether because the results of a human having to take over safely and suddenly were unpredictable and potentially dangerous. This car should be road ready by early next year.
{total}
', enableHover: false, enableTracking: true, click: function(api, options){ api.simulateClick(); api.openPopup('facebook'); } }); jQuery('#googleplus').sharrre({ share: { googlePlus: true }, template: '
{total}
', enableHover: false, enableTracking: true, urlCurl: 'https://telenews.in/wp-content/themes/hueman/js/sharrre.php', click: function(api, options){ api.simulateClick(); api.openPopup('googlePlus'); } }); jQuery('#pinterest').sharrre({ share: { pinterest: true }, template: '
{total}
', enableHover: false, enableTracking: true, buttons: { pinterest: { description: 'Google unveiled its DRIVERLESS CAR prototype in California',media: 'https://telenews.in/wp-content/uploads/2014/05/google-self-driving-car.jpg' } }, click: function(api, options){ api.simulateClick(); api.openPopup('pinterest'); } }); });