YotaPhone will soon launch dual-display smartphones in India via Flipkart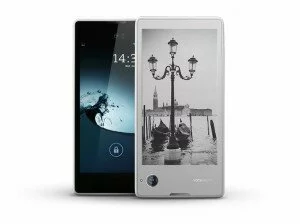 Yota Devices, the Russian company popular for its dual-display YotaPhone, is all set to launch its first device in India, available exclusively via Flipkart.
The smartphone, which was unveiled at Mobile World Congress last year, created quite the buzz as its features two displays —an LCD primary display and an E-Ink secondary display. The latter is always on and can be used to show notifications, weather, social media updates, calendar reminders, as well as reading e-books.
Specifications of YotaPhone are -
Display – 4.3-inch HD
Resolution – 640×360 pixels
Processor – 1.7GHz Dual Core Snapdragon 400
RAM – 2GB
Internal Storage – 32GB
Rear Camera – 13-megapixel with LED flash
Front Camera – 1 megapixel
OS – Android 4.2.2 Jelly Bean
Battery – 1800 mAh
{total}
', enableHover: false, enableTracking: true, click: function(api, options){ api.simulateClick(); api.openPopup('facebook'); } }); jQuery('#googleplus').sharrre({ share: { googlePlus: true }, template: '
{total}
', enableHover: false, enableTracking: true, urlCurl: 'https://telenews.in/wp-content/themes/hueman/js/sharrre.php', click: function(api, options){ api.simulateClick(); api.openPopup('googlePlus'); } }); jQuery('#pinterest').sharrre({ share: { pinterest: true }, template: '
{total}
', enableHover: false, enableTracking: true, buttons: { pinterest: { description: 'YotaPhone will soon launch dual-display smartphones in India via Flipkart',media: 'https://telenews.in/wp-content/uploads/2014/10/yotaphone-india-launch.jpg' } }, click: function(api, options){ api.simulateClick(); api.openPopup('pinterest'); } }); });