Microsoft unveiled Windows 10, Skipped Windows 9 to focus on Advance features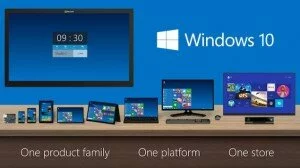 Microsoft has disclosed the details of Windows 10 – its next operating system (OS). The name is surprise bearing in mind it represents a jump from the last version – Windows 8. The software will run on a wide range of devices from smartphones and tablets to PCs and Xbox games consoles with applications sold from a single store. It also marks the return of the Start Menu, which had been removed from the Windows 8.
The current version, Windows 8, has been widely derided for forcing radical behavioral changes. Microsoft is restoring some of the more traditional ways of doing things and promises that Windows 10 will be familiar for users regardless of which version of Windows they are now using.
Microsoft offered a glimpse of its vision for Windows at a San Francisco event Tuesday aimed at business customers. Although the new software won't be formally released until next year, analysts already consider its success crucial for Microsoft and new CEO Satya Nadella.
{total}
', enableHover: false, enableTracking: true, click: function(api, options){ api.simulateClick(); api.openPopup('facebook'); } }); jQuery('#googleplus').sharrre({ share: { googlePlus: true }, template: '
{total}
', enableHover: false, enableTracking: true, urlCurl: 'https://telenews.in/wp-content/themes/hueman/js/sharrre.php', click: function(api, options){ api.simulateClick(); api.openPopup('googlePlus'); } }); jQuery('#pinterest').sharrre({ share: { pinterest: true }, template: '
{total}
', enableHover: false, enableTracking: true, buttons: { pinterest: { description: 'Microsoft unveiled Windows 10, Skipped Windows 9 to focus on Advance features',media: 'https://telenews.in/wp-content/uploads/2014/10/windows_10.jpg' } }, click: function(api, options){ api.simulateClick(); api.openPopup('pinterest'); } }); });