Upcoming Xiaomi Redmi device has been leaked in an image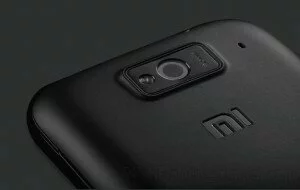 The Chinese Smartphone player Xiaomi's unannounced RedMi Note 2 has surfaced online yet again. An alleged photo showing off the upper part of the back panel, focusing mainly on the camera module of the RedMi Note 2 has been posted by GSMDome. The photo shows an 8-megapixel camera module.
The image shows the back of the handset and looks like a rubberised finish on what could be a complete plastic construction. Xiaomi is known for building quality handsets so we do think that they have the ability to pull off a plastic build pretty well. What is also visible is the LED flash unit along with the vertically placed '8.0 MP' camera branding, alongside the camera lens.
The placement of logo and even the look of the camera are pretty different from what has been on the current generation Xiaomi Smartphones.
This device will be powered by Qualcomm's Snapdragon 615, a 64-bit octa-core processor. 2GB of RAM will allegedly also be a part of this package as well as a 13-megapixel camera. 5.5-inch 1080p display will allegedly be its screen size and the device will ship with a 3500mAh battery. This will also be a dual-SIM capable device and will sport 4G LTE connectivity. Its price is sub-1499 Yuan ($245) according to the source.
{total}
', enableHover: false, enableTracking: true, click: function(api, options){ api.simulateClick(); api.openPopup('facebook'); } }); jQuery('#googleplus').sharrre({ share: { googlePlus: true }, template: '
{total}
', enableHover: false, enableTracking: true, urlCurl: 'https://telenews.in/wp-content/themes/hueman/js/sharrre.php', click: function(api, options){ api.simulateClick(); api.openPopup('googlePlus'); } }); jQuery('#pinterest').sharrre({ share: { pinterest: true }, template: '
{total}
', enableHover: false, enableTracking: true, buttons: { pinterest: { description: 'Upcoming Xiaomi Redmi device has been leaked in an image',media: 'https://telenews.in/wp-content/uploads/2014/10/Xiaomi-Redmi-Note-2-rear.jpg' } }, click: function(api, options){ api.simulateClick(); api.openPopup('pinterest'); } }); });