Motorola Customer Care confirmed that Moto X and G will get 'Android L'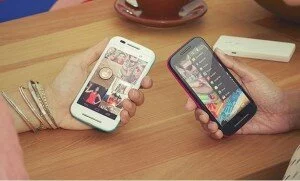 Motorola confirms Moto X and G will get Android L – read the full text Android L is still in the developer preview phase but companies are already vowing to bring it to their devices. Motorola smartphones have mostly pure Android and get very timely updates now Moto customer support is claiming that the Moto X and Moto G will definitely be getting the L update.
Android L was announced by Google at the developer conference in San Francisco last month. Presently, it seems very difficult to believe, and pretty much unlikely that Motorola will give out any confirmation or information about the new Android L operating system on their handsets. Since the operating system is still in its final development stages, handset manufacturers would not leak out sensitive information, like this one, on a public chat line.

Few days back, Motorola India had announced it had started rolling out the latest Android 4.4.4 KitKat update for its for the Moto E, Moto G and Moto X smartphones users in India. The company made the announcement via its Twitter handle, and said users should expect the Android 4.4.4 KitKat update over-the-air soon.
{total}
', enableHover: false, enableTracking: true, click: function(api, options){ api.simulateClick(); api.openPopup('facebook'); } }); jQuery('#googleplus').sharrre({ share: { googlePlus: true }, template: '
{total}
', enableHover: false, enableTracking: true, urlCurl: 'https://telenews.in/wp-content/themes/hueman/js/sharrre.php', click: function(api, options){ api.simulateClick(); api.openPopup('googlePlus'); } }); jQuery('#pinterest').sharrre({ share: { pinterest: true }, template: '
{total}
', enableHover: false, enableTracking: true, buttons: { pinterest: { description: 'Motorola Customer Care confirmed that Moto X and G will get 'Android L'',media: 'https://telenews.in/wp-content/uploads/2014/07/moto-comparison-631x420.png' } }, click: function(api, options){ api.simulateClick(); api.openPopup('pinterest'); } }); });