Flipkart extended 'In-a-Day Guarantee' Delivery Service In 50 Indian Cities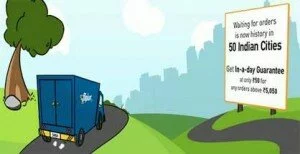 Flipkart extended its 'In-a-day Guarantee' delivery to 50 cities. Initially the service was active in Bangalore, Chennai, Delhi, Hyderabad, Mumbai, Noida and Pune. But now it includes cities of Kolkata, Agra, Ahmedabad, Ajmer, Ambala, Bhatinda, Bhubaneshwar, Chandigarh, Chandannagar, Coimbatore, Davangere, Durgapur, Erode, Faridabad, Goa, Gurgaon, Ghaziabad, Hissar, Hosur, Howrah, Hubli, Jaipur, Kanchipuram, Kharagpur, Kota, Ludhiana, Madurai, Meerut, Nagpur, Nashik, Navi Mumbai, Panipat, Panjim, Patiala, Pondicherry, Salem, Secunderabad, Thane, Thanjavur, Tiruvallur, Tiruppur, Tiruchirappalli and Vellore.
Flipkart said in a statement -
"The wait is now over! In a day guarantee in 50 Indian cities at Rs. 50! Offer valid for 2 days."
For this introductory offer flipkart has slashed the price of its 'In-a-day Guarantee' service to Rs. 50 from Rs. 90 for two days on orders above Rs. 5,050.
{total}
', enableHover: false, enableTracking: true, click: function(api, options){ api.simulateClick(); api.openPopup('facebook'); } }); jQuery('#googleplus').sharrre({ share: { googlePlus: true }, template: '
{total}
', enableHover: false, enableTracking: true, urlCurl: 'https://telenews.in/wp-content/themes/hueman/js/sharrre.php', click: function(api, options){ api.simulateClick(); api.openPopup('googlePlus'); } }); jQuery('#pinterest').sharrre({ share: { pinterest: true }, template: '
{total}
', enableHover: false, enableTracking: true, buttons: { pinterest: { description: 'Flipkart extended 'In-a-Day Guarantee' Delivery Service In 50 Indian Cities',media: 'https://telenews.in/wp-content/uploads/2014/07/Flipkart-Expands-Its-In-a-Day-Guarantee-Delivery-Service.jpg' } }, click: function(api, options){ api.simulateClick(); api.openPopup('pinterest'); } }); });