Microsoft announced its new entry level Windows Phone 8.1 smartphone – Lumia 530
Microsoft today announced the Lumia 530, a brand new entry-level Windows Phone. This Windows Phone is the latest handset to come from the tech giant running Windows Phone 8.1 and featuring a quad-core processor to boot. The only difference being the price, which will see both the single-SIM and dual-SIM variants be listed for under €100.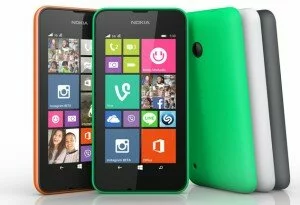 Feature of Lumia 530 are -
Latest version of Windows Phone 8.1 including one-swipe notifications from Action Center.
Fast Word Flow keyboard.
Powerful quad-core Qualcomm Snapdragon processor to deliver a superfast user experience.
Seamless integration with Microsoft services such as Skype and Microsoft Office.
Personalization with changeable shells in bright orange and bright green in addition to the dark grey and white options.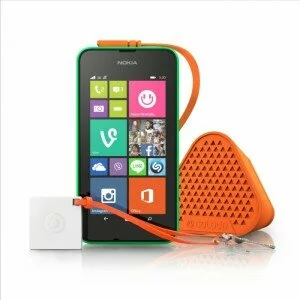 Specifications of Lumia 530 are -
Display – 4 inch LCD
Processor – 1.2 GHz Quad-core Qualcomm Snapdragon™ 200
Rear Camera – 5 megapixels
Front Camera – No Camera
OS – Windows Phone 8.1
Resolution – 854 x 480 pixels
RAM – 512 MB
Internal Storage – 4 GB expandable up to 128 GB
Dimensions – 119.7×62.3×11.7mm
Weight – 128 grams
Battery – 1,430 mAh
Colors Available – Bright Orange, Bright Green, Dark Grey, and White
{total}
', enableHover: false, enableTracking: true, click: function(api, options){ api.simulateClick(); api.openPopup('facebook'); } }); jQuery('#googleplus').sharrre({ share: { googlePlus: true }, template: '
{total}
', enableHover: false, enableTracking: true, urlCurl: 'https://telenews.in/wp-content/themes/hueman/js/sharrre.php', click: function(api, options){ api.simulateClick(); api.openPopup('googlePlus'); } }); jQuery('#pinterest').sharrre({ share: { pinterest: true }, template: '
{total}
', enableHover: false, enableTracking: true, buttons: { pinterest: { description: 'Microsoft announced its new entry level Windows Phone 8.1 smartphone – Lumia 530',media: 'https://telenews.in/wp-content/uploads/2014/07/10820-3639204c_680_400.jpg' } }, click: function(api, options){ api.simulateClick(); api.openPopup('pinterest'); } }); });