Google Sends Invites for India Event on September 15 likely to launch Android One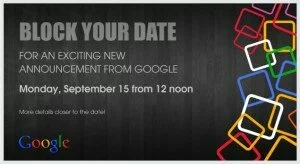 Google has now began sending invites out telling us to "block your date for an exciting new announcement from Google." The event will take place on September 15th in India, and while there's no guarantee that Google plans to formally out the first crop of Android One handsets.
Sundar Pichai, Senior Vice President, Android, Chrome and Apps at Google said -
"Mountain View-based company will not subsidise Android One hardware. Instead, Pichai hoped that the by sharing resources between Google and the OEMs, the companies would be able to keep the total cost of manufacturing in check."
The goal of Android One is to bring "high-quality, affordable" smartphones to the developing world, starting with India and moving on to other locations if the strategy proves successful.
Android One means these consumers will have an option that is still extremely affordable, but has fewer compromises when it comes to the software.
Google might surprise everyone as Google will be revealing more details in the following days.
{total}
', enableHover: false, enableTracking: true, click: function(api, options){ api.simulateClick(); api.openPopup('facebook'); } }); jQuery('#googleplus').sharrre({ share: { googlePlus: true }, template: '
{total}
', enableHover: false, enableTracking: true, urlCurl: 'https://telenews.in/wp-content/themes/hueman/js/sharrre.php', click: function(api, options){ api.simulateClick(); api.openPopup('googlePlus'); } }); jQuery('#pinterest').sharrre({ share: { pinterest: true }, template: '
{total}
', enableHover: false, enableTracking: true, buttons: { pinterest: { description: 'Google Sends Invites for India Event on September 15 likely to launch Android One',media: 'https://telenews.in/wp-content/uploads/2014/09/google_invite_press.jpg' } }, click: function(api, options){ api.simulateClick(); api.openPopup('pinterest'); } }); });