Photos and Pricing of Moto G Successor leaked, Might be Called 'New Moto G'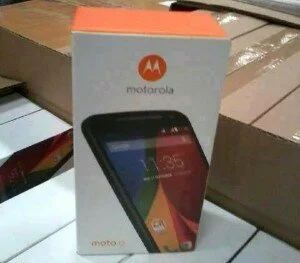 Motorola is hosting an event in India on September 5 where it will launch the successor to the popular Moto G. Photo of the Moto G successor has leaked just days away from official launch this week. This time the leak shows the phone is a box at Flipkart's warehouse. The image was posted by a Google+ user.
The Moto G successor is expected to have 5 inch screen and 8MP camera. It will be powered by a 1.2GHz quad-core processor with 1GB RAM, 16GB storage and run on latest Android KitKat. Last week, photos of the phone were also leaked that seconded the 5 inch screen.
According to the user who posted an image of the alleged Moto G successor's box packaging, the device will be called "just the Moto G or maybe 'New Moto G'.
Earlier to this the smartphone was noticed on an Indian import manifest indicating that India can be one of many first markets the place the telephone can be launched. While the system was earlier known as the Moto G2.
{total}
', enableHover: false, enableTracking: true, click: function(api, options){ api.simulateClick(); api.openPopup('facebook'); } }); jQuery('#googleplus').sharrre({ share: { googlePlus: true }, template: '
{total}
', enableHover: false, enableTracking: true, urlCurl: 'https://telenews.in/wp-content/themes/hueman/js/sharrre.php', click: function(api, options){ api.simulateClick(); api.openPopup('googlePlus'); } }); jQuery('#pinterest').sharrre({ share: { pinterest: true }, template: '
{total}
', enableHover: false, enableTracking: true, buttons: { pinterest: { description: 'Photos and Pricing of Moto G Successor leaked, Might be Called 'New Moto G'',media: 'https://telenews.in/wp-content/uploads/2014/09/motorola-moto-g-flipkart-packaging.jpg' } }, click: function(api, options){ api.simulateClick(); api.openPopup('pinterest'); } }); });