Samsung confirmed Galaxy Note 4 India Launch Date as October 11th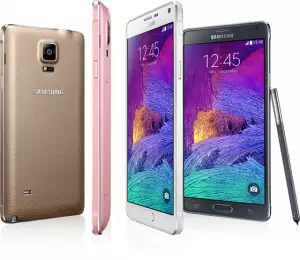 Samsung on Wednesday revealed at a press event in Singapore that it will begin the sales roll-out of the new Galaxy Note 4 smartphone on October 11 in the South-East Asia. According to the company, Singapore will be the first market to get the phone in the region on October 11, followed by Thailand on October 13, Myanmar on October 15, Cambodia on October 17, Vietnam on October 24, and Laos, Indonesia & Philippines on October 25.
As per a Galaxy Note 4 marketing event schedule shared by Samsung on its official Facebook page, the phone will be launched on October 10 in the country.
Note 4 comes equipped with a 5.7-inch Quad-HD (1440×2560) Super AMOLED screen (515ppi), a 2.7GHz quad-core or an octa-core processor (1.9GHz quad-core + 1.3GHz quad-core), 3GB RAM, a 16 MP rear camera, a 3.7 MP front shooter, and 32GB of storage with microSD card slot. It will run Android 4.4 KitKat.
There is no word on pricing but it is expected to retail over INR 50,000 in the country.
{total}
', enableHover: false, enableTracking: true, click: function(api, options){ api.simulateClick(); api.openPopup('facebook'); } }); jQuery('#googleplus').sharrre({ share: { googlePlus: true }, template: '
{total}
', enableHover: false, enableTracking: true, urlCurl: 'https://telenews.in/wp-content/themes/hueman/js/sharrre.php', click: function(api, options){ api.simulateClick(); api.openPopup('googlePlus'); } }); jQuery('#pinterest').sharrre({ share: { pinterest: true }, template: '
{total}
', enableHover: false, enableTracking: true, buttons: { pinterest: { description: 'Samsung confirmed Galaxy Note 4 India Launch Date as October 11th',media: 'https://telenews.in/wp-content/uploads/2014/10/galaxy-note-4.png' } }, click: function(api, options){ api.simulateClick(); api.openPopup('pinterest'); } }); });