Google officially announced Nexus 9, with 8.9-inch Display 64-Bit Tegra K1 and Android 5.0 Lollipop
Google has announced that the Nexus 9 pre-orders will begin October 17 and that the first units will be shipped starting November 3rd. The cheapest Nexus 9 has a price of $399 and it comes with 16 GB storage and WiFi connectivity, while the most expensive model is LTE-capable and comes with 32 GB storage, being priced at $599.
The Nexus 9 will be coming with an optional Keyboard Folio. The keyboard can be attached to the tablet via magnets and paired with the device using NFC. If you are worried about the accessory sucking out the battery, then you should know that the keyboard comes with its own battery.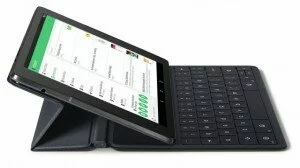 Specifications of HTC Google Nexus 9 are -
Display – 8.90-inch IPS LCD
Processor – 2.3GHz
Front Camera – 1.6-megapixel
Resolution – 2048×1536 pixels
RAM – 2GB
OS – Android 5.0
Storage – 16GB
Processor – 64-bit Nvidia Tegra K1 clocked at 2.3 GHz
GPU – Kepler DX1
Rear Camera – 8-megapixel
Battery – 6700mAh
Dimensions – 153.68 x 228.25 x 7.95mm
Weight – 425 grams
Colors Available – Indigo Black, Lunar White, Sand
{total}
', enableHover: false, enableTracking: true, click: function(api, options){ api.simulateClick(); api.openPopup('facebook'); } }); jQuery('#googleplus').sharrre({ share: { googlePlus: true }, template: '
{total}
', enableHover: false, enableTracking: true, urlCurl: 'https://telenews.in/wp-content/themes/hueman/js/sharrre.php', click: function(api, options){ api.simulateClick(); api.openPopup('googlePlus'); } }); jQuery('#pinterest').sharrre({ share: { pinterest: true }, template: '
{total}
', enableHover: false, enableTracking: true, buttons: { pinterest: { description: 'Google officially announced Nexus 9, with 8.9-inch Display 64-Bit Tegra K1 and Android 5.0 Lollipop',media: 'https://telenews.in/wp-content/uploads/2014/10/nexus2cee_N9-grid1-l_thumb.jpg' } }, click: function(api, options){ api.simulateClick(); api.openPopup('pinterest'); } }); });