Google confirmed the Nexus 6 Release Date along with Nexus 9 and Android 5.0 Lollipop update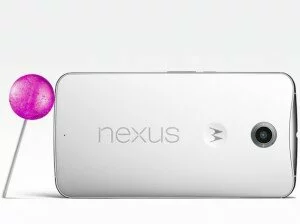 Google Nexus 6 price and availability details have been confirmed by Motorola and Google. Nexus 6 release is confirmed in an announcement alongside the Nexus 9 and Android 5.0 Lollipop update.
The Motorola-built smartphone isn't just Google's biggest phone to date, is packed with quad-core Qualcomm Snapdragon 805 processor, 3GB RAM and a 3,220mAh battery, which the firm claims will last for at least a full day.
Motorola and Google both have said in their reports that the Nexus 6 will be accessible for pre order through the Google Play Store which will start from late October and they will start shipping the products in November. But T Mobile was more precise in this and have said that they will release it on November 12. Motorola has further said that the Nexus 6 will be available in 28 countries.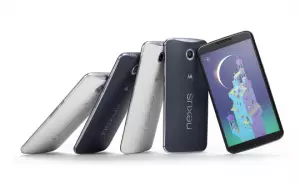 Specifications of Motorola Google Nexus 6 are -
Display – 5.96-inch
Processor – 2.7GHz Quad-Core Qualcomm Snapdragon 805
Front Camera – 2-megapixel
Resolution – 1440×2560 pixels
RAM – 3GB
OS – Android 5.0
Storage – 32GB
Rear Camera – 13-megapixel
Battery – 3220mAh
Dimensions – 82.98 x 159.26 x 10.06mm
Weight – 184 grams
{total}
', enableHover: false, enableTracking: true, click: function(api, options){ api.simulateClick(); api.openPopup('facebook'); } }); jQuery('#googleplus').sharrre({ share: { googlePlus: true }, template: '
{total}
', enableHover: false, enableTracking: true, urlCurl: 'https://telenews.in/wp-content/themes/hueman/js/sharrre.php', click: function(api, options){ api.simulateClick(); api.openPopup('googlePlus'); } }); jQuery('#pinterest').sharrre({ share: { pinterest: true }, template: '
{total}
', enableHover: false, enableTracking: true, buttons: { pinterest: { description: 'Google confirmed the Nexus 6 Release Date along with Nexus 9 and Android 5.0 Lollipop update',media: 'https://telenews.in/wp-content/uploads/2014/10/Nexus-6-2-620x291.jpg' } }, click: function(api, options){ api.simulateClick(); api.openPopup('pinterest'); } }); });