Microsoft Lumia will replace the Nokia brand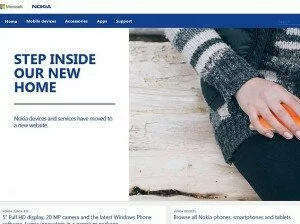 Microsoft Lumia is the new brand name that takes the place of Nokia for the software maker. The name change follows a slow transition from Nokia.com over to Microsoft's new mobile site. This rebranding effort will expand and soon the lineup will become "Microsoft Lumia".
Smartphone will feature the Windows logo with words 'Windows' instead of 'Windows Phone'. This is in-line with the company's unification of its operating systems with the Windows 10 'Threshold' update.
Nokia France will be the first of many countries who adopted "Microsoft Lumia" for its Facebook, Twitter, and other social media accounts. According to the Microsoft, in the coming weeks, other countries will also be going through a complete makeover. The company has also been pulling out the Nokia brand name from its promotion and advertisements from the past few months. Recently, they had also renamed Nokia apps to just Lumia.
Nokia is still a separate company, but without their phones. The company will now more focus on mapping and network infrastructure.
{total}
', enableHover: false, enableTracking: true, click: function(api, options){ api.simulateClick(); api.openPopup('facebook'); } }); jQuery('#googleplus').sharrre({ share: { googlePlus: true }, template: '
{total}
', enableHover: false, enableTracking: true, urlCurl: 'https://telenews.in/wp-content/themes/hueman/js/sharrre.php', click: function(api, options){ api.simulateClick(); api.openPopup('googlePlus'); } }); jQuery('#pinterest').sharrre({ share: { pinterest: true }, template: '
{total}
', enableHover: false, enableTracking: true, buttons: { pinterest: { description: 'Microsoft Lumia will replace the Nokia brand',media: 'https://telenews.in/wp-content/uploads/2014/10/nokia_lumia_1020_front.jpg' } }, click: function(api, options){ api.simulateClick(); api.openPopup('pinterest'); } }); });