Oppo launching Mid-range Smartphones N1 Mini and R3 with 5 inch display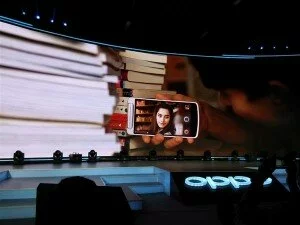 Chinese phone maker Oppo is launching two new smartphones with 5 inch screens. The company says the new Oppo R3 is the world's thinnest smartphone to support 4G LTE, and with a body that measures 6.3mm, or less than 0.25 inches thick.
Oppo N1 Mini is coming at price of CNY 2699 (approximately Rs. 25,700) and will go on sale in China starting subsequent week. On a other hand, a Oppo R3 is coming with a price tag of CNY 2299 (approximately Rs. 21,800) and will be available later this month in China.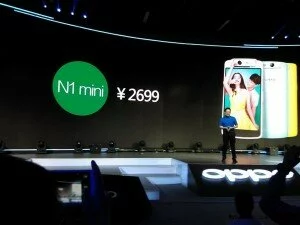 Specifications of Oppo N1 Mini are -
Display – 5 inch
Resolution – 720 x 1080 pixels
OS – Android 4.3 Jelly Bean
Processor – 1.6 Ghz Quad Core Qualcomm Snapdragon
RAM – 2 GB
Camera – Rotating 13 MP Sony IMX214 sensor
Internal Storage – 16 GB not expandable support
Battery – 2140 mAh
Thickness – 9.2 mm
Weight – 150 grams
Colors Available – White, Blue and Yellow
Specifications of Oppo R3 are -
Display – 5-inch HD IPS
Processor – Quad core 1.6GHz Snapdragon
RAM – 1 GB
Rear Camera – 8 MP
Front Camera – 5 MP
Internal Storage – 8 GB no expandable support
Battery – 2420 mAh
Weight – 240 grams
Dimensions – 142.3 x 6.3 x 70.4 mm
{total}
', enableHover: false, enableTracking: true, click: function(api, options){ api.simulateClick(); api.openPopup('facebook'); } }); jQuery('#googleplus').sharrre({ share: { googlePlus: true }, template: '
{total}
', enableHover: false, enableTracking: true, urlCurl: 'https://telenews.in/wp-content/themes/hueman/js/sharrre.php', click: function(api, options){ api.simulateClick(); api.openPopup('googlePlus'); } }); jQuery('#pinterest').sharrre({ share: { pinterest: true }, template: '
{total}
', enableHover: false, enableTracking: true, buttons: { pinterest: { description: 'Oppo launching Mid-range Smartphones N1 Mini and R3 with 5 inch display',media: 'https://telenews.in/wp-content/uploads/2014/06/OPPO-N1-Mini.jpg' } }, click: function(api, options){ api.simulateClick(); api.openPopup('pinterest'); } }); });