Oppo launched new smartphone Find 7 with QHD display in India for Rs. 37,990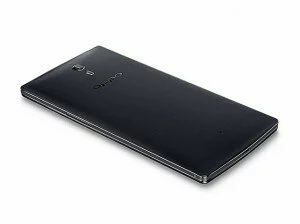 Oppo has launched the Find 7 in India with Quad-HD (QHD) display. The Oppo Find 7 has been priced at Rs. 37,990, and will go on sale in the Indian market from early July.
In India the Oppo Find 7 is the first handset to come with QHD display. And thus there will be a very tough competition among the Android Market in India, especially the high-end segment.
Specifications of Oppo Find 7 are -
Display – 5.5-inch inch Quad HD screen
Resolution – 2560 x 1440 pixels
OS – ColorOS
Processor – Qualcomm's 2.5GHz Snapdragon 801 Quad Core
Rear camera – 13 megapixel
Front Camera – 5 megapixel
Internal Storage – 32 GB expandable up to 128 GB
RAM – 3 GB
Weight – 170 grams
Battery – 3000 mAh
A really cool touch is the "breathing" notification strip below the display. It acts as a notification for incoming calls, unread messages and email and the device is priced at Rs 37990. The firm also aggressively plans to expand its retail presence across the country with 5,000 retail points this year from the existing 1,000.
Oppo also announced a smart wristband dubbed O-Band. It can track your sleeping patterns, remind you about missed notifications and record fitness data. It packs a vibration alarm, too.
{total}
', enableHover: false, enableTracking: true, click: function(api, options){ api.simulateClick(); api.openPopup('facebook'); } }); jQuery('#googleplus').sharrre({ share: { googlePlus: true }, template: '
{total}
', enableHover: false, enableTracking: true, urlCurl: 'https://telenews.in/wp-content/themes/hueman/js/sharrre.php', click: function(api, options){ api.simulateClick(); api.openPopup('googlePlus'); } }); jQuery('#pinterest').sharrre({ share: { pinterest: true }, template: '
{total}
', enableHover: false, enableTracking: true, buttons: { pinterest: { description: 'Oppo launched new smartphone Find 7 with QHD display in India for Rs. 37,990',media: 'https://telenews.in/wp-content/uploads/2014/06/oppo_find_7_india_launch_june.jpg' } }, click: function(api, options){ api.simulateClick(); api.openPopup('pinterest'); } }); });