Xiaomi teases Redmi 1S on Facebook page with Fuzzy image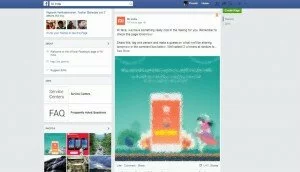 The long awaited budget segment offering from Xiaomi seems to be ready for launch. Redmi 1S smartphone being posted on Xiaomi's Facebook page. It's not a clear picture at all, its entirely fuzzy , but it fits with previously known details stating that the Redmi 1S would be released around August-September.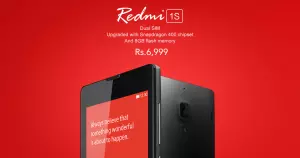 The Xiaomi Redmi 1S has a 1.6 GHz Qualcomm Snapdragon 400 quad-core processor along with 1 GB of RAM and a 4.7 inch 720p IPS display and Corning Gorilla Glass 2 protection. The device also has 8 GB of internal storage, which is expandable to 32GB using a micro-SD card. The device runs on the Android 4.3 Jelly Bean OS, with the MiUI 5 interface. It also has a 2,000 mAh battery along with an 8 MP rear camera and a 1.6 MP front camera. Along with the Xiaomi Mi3, this is the second Xiaomi smartphone in the country and the company has said that it will bring its entire range to India.
{total}
', enableHover: false, enableTracking: true, click: function(api, options){ api.simulateClick(); api.openPopup('facebook'); } }); jQuery('#googleplus').sharrre({ share: { googlePlus: true }, template: '
{total}
', enableHover: false, enableTracking: true, urlCurl: 'https://telenews.in/wp-content/themes/hueman/js/sharrre.php', click: function(api, options){ api.simulateClick(); api.openPopup('googlePlus'); } }); jQuery('#pinterest').sharrre({ share: { pinterest: true }, template: '
{total}
', enableHover: false, enableTracking: true, buttons: { pinterest: { description: 'Xiaomi teases Redmi 1S on Facebook page with Fuzzy image',media: 'https://telenews.in/wp-content/uploads/2014/08/RedmiTease.jpg' } }, click: function(api, options){ api.simulateClick(); api.openPopup('pinterest'); } }); });