Xiaomi sold 40,000 Redmi 1S Smartphones in 4.2 Seconds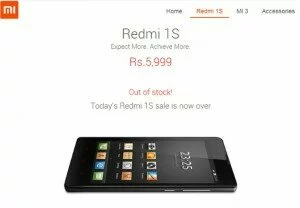 Xiaomi conducted the first flash sale for its affordable Redmi 1S (smartphone) priced at Rs 5,999 today (on Tuesday). And just like the previous Mi3 flash sales, the Redmi 1S was out of stock within a few seconds.
The company is selling their phones exclusively on Indian retailer Flipkart, and has struggled to keep up with the high demand. After Sale at 2pm, 40,000 units of the Redmi 1S sell-out in 4.2 seconds.
Hugo Barra, Xiaomi's head honcho announced earlier today that the Redmi 1S will come with two free screen-guards and micro-SIM adapters, sweetening the deal even more.
Flipkart on the other hand, revealed that they had over 250,000 pre-registrations, which means about one-in-six buyers actually managed to get the Redmi 1S today. The registration for the next sale will begin at 6 p.m. today and the sale will go live next Tuesday (September 9, 2014).
{total}
', enableHover: false, enableTracking: true, click: function(api, options){ api.simulateClick(); api.openPopup('facebook'); } }); jQuery('#googleplus').sharrre({ share: { googlePlus: true }, template: '
{total}
', enableHover: false, enableTracking: true, urlCurl: 'https://telenews.in/wp-content/themes/hueman/js/sharrre.php', click: function(api, options){ api.simulateClick(); api.openPopup('googlePlus'); } }); jQuery('#pinterest').sharrre({ share: { pinterest: true }, template: '
{total}
', enableHover: false, enableTracking: true, buttons: { pinterest: { description: 'Xiaomi sold 40,000 Redmi 1S Smartphones in 4.2 Seconds',media: 'https://telenews.in/wp-content/uploads/2014/09/BwhFVeSCEAA1VXk.png' } }, click: function(api, options){ api.simulateClick(); api.openPopup('pinterest'); } }); });