Xiaomi Unveils Smartphone Dock That Monitors Blood Pressure, Heart Rate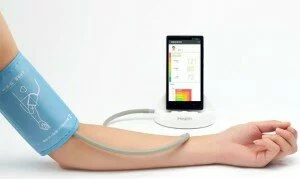 Chinese smartphone company Xiaomi has a new product up its sleeves to monitor your blood pressure. Branded as iHealth, the new dock attaches to a cuff that can measure your blood pressure and heart rate.
The iHealth dock sounds similar to other such devices, such as the Withings Smart Blood Pressure Monitor, which attaches a cuff to your smartphone and uses an app to record and monitor your blood pressure.
Xiaomi spokesperson said -
"The blood pressure monitor can be used on other Android devices, but it is best suited for Xiaomi smartphones."
Xiaomi had marked its first move to health-related gadgets back in July when the company launched its Mi Band alongside the company's flagship smartphone, Mi 4.
{total}
', enableHover: false, enableTracking: true, click: function(api, options){ api.simulateClick(); api.openPopup('facebook'); } }); jQuery('#googleplus').sharrre({ share: { googlePlus: true }, template: '
{total}
', enableHover: false, enableTracking: true, urlCurl: 'https://telenews.in/wp-content/themes/hueman/js/sharrre.php', click: function(api, options){ api.simulateClick(); api.openPopup('googlePlus'); } }); jQuery('#pinterest').sharrre({ share: { pinterest: true }, template: '
{total}
', enableHover: false, enableTracking: true, buttons: { pinterest: { description: 'Xiaomi Unveils Smartphone Dock That Monitors Blood Pressure, Heart Rate',media: 'https://telenews.in/wp-content/uploads/2014/09/gn-a69ff9905712b9d5f27ae47b0e14e79b.jpg' } }, click: function(api, options){ api.simulateClick(); api.openPopup('pinterest'); } }); });