Microsoft launched Xbox One India available exclusively on Amazon for Rs 39,990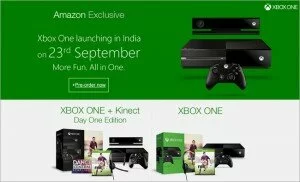 Microsoft has officially launched the Xbox One, its latest generation gaming console in India. The Xbox One is being exclusively sold through Amazon.in
Pre-orders for the Xbox One (Review) began on August 6, exclusively via Amazon.in. The Xbox One (without Kinect) is priced at Rs. 39,990, and the Xbox One + Kinect Day One Edition is priced at Rs. 45,990. Users who pre-ordered the Xbox One on Amazon.in get FIFA 15 bundled for free, while those who pre-ordered the Xbox One with Kinect will get Dance Central Spotlight as well.
Chakrapani Gollapali, Country General Manager, Consumer Channels Group, Microsoft, said -
"We have a truly passionate community of gamers in India and the Xbox One launch is dedicated to these fans. Gaming in India will witness a new pace of growth and given our lineup of games, we shall give our fans many reasons to love being on the Xbox platform. We are also equally committed to create unprecedented entertainment experiences that are unparalleled in the console industry in India and leading with localized content. We are pleased to announce three new apps on our platform; Bigflix, Gaana and Hungama – with a wide genre of Indian movie and music content. The Xbox platform shall be the pivotal destination and we look forward to working with the entertainment industry to deliver amazing experiences to our users."
The Xbox One box set includes, Xbox One Console, Kinect (In Kinect Bundle only), Xbox One Wireless Controller, Xbox One Chat Headset, High Speed HDMI Cable, 500GB Hard Drive, 2 AA Batteries, Power Supply, and AC Power Cord, with 14 Day Xbox Live Gold Trial Card.
The Xbox One brings some exclusive games line up including Forza Horizon 2, Forza Motorsport 5, Dead Rising 3 and Ryse: Son of Rome. Popular third-party games will also be available on Xbox One with early exclusivity for downloadable content in "Call of Duty: Advanced Warfare," "FIFA 14," "Battlefield 4" and more. Some major launches such as "Halo-The Master Chief Collection and "Sunset Overdrive" are also expected on the One this year.
{total}
', enableHover: false, enableTracking: true, click: function(api, options){ api.simulateClick(); api.openPopup('facebook'); } }); jQuery('#googleplus').sharrre({ share: { googlePlus: true }, template: '
{total}
', enableHover: false, enableTracking: true, urlCurl: 'https://telenews.in/wp-content/themes/hueman/js/sharrre.php', click: function(api, options){ api.simulateClick(); api.openPopup('googlePlus'); } }); jQuery('#pinterest').sharrre({ share: { pinterest: true }, template: '
{total}
', enableHover: false, enableTracking: true, buttons: { pinterest: { description: 'Microsoft launched Xbox One India available exclusively on Amazon for Rs 39,990',media: 'https://telenews.in/wp-content/uploads/2014/09/screen-shot-2014-08-06-at-6_0806140723171.jpg' } }, click: function(api, options){ api.simulateClick(); api.openPopup('pinterest'); } }); });